The CEOP website has been developed to offer children, young people, parents/carers and professionals working with these groups with a simple and convenient mechanism for gaining access to trusted online safety advice, help and support. For further information on the CEOP website, click on the link below.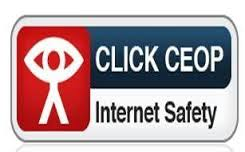 Online Safety Week 2019- Safer Internet Day: Tuesday 5th February 2019
Safer Internet Day is designed to promote safer and more responsible use of the internet.
This week we have been learning about how to stay safe on the internet. The theme this year was 'consent'. The children have been thinking about how important it is to ask for and give consent whilst online.
The children have received an assembly which focused on how to use the internet safely and the importance of gaining/giving permission.
Miss S Bailey
Computing Subject Leader
Urgent Information for Parents/Carers regarding and online threat – The Momo Challenge
It has come to our attention in school and across the media about a growing 'suicide game' called Momo.
Momo presents a haunting image of a woman with grotesque features and bulging eyes. Children receive a message request from an unknown number (usually within the Whatsapp app) which then proceeds to send graphic images and instructions to harm themselves and others - or she will 'curse them'. Momo also tells the user that it's a secret and that they are not to reveal anything to their parents or else something bad may happen. It is commonly being found within the Whatsapp chatting app but has also been found to appear in the middle of apparently harmless YouTube videos, which are popular with children (this is despite the proper parental controls being in place). This horrendous 'challenge' has been linked to the death of a 12 year-old girl in Argentina.
We urge parents to maintain an open dialogue with children about what they are doing online and the dangers of viral trends like this one. It is important that, as parents, you are monitoring the things your children can access on the internet. This includes activating parental controls and checking your child's search history. May we also remind you that Whatsapp has an age rating of 16, so children should not be using this app on their phones.
In supplying this information, we hope that you will be vigilant in managing your child's online presence so that together we can try to protect them from this and similar online threats.
Please find below a link to an information sheet for parents giving information about the 'Momo' challenge. This was released by the National Online Safety team this week. We will also put a link to this on our school website: https://nationalonlinesafety.com/resources/platform-guides/momo-online-safety-guide-for-parents/
Yours sincerely,
Mrs J.Westhead
Headteacher