Music at Lowton West
Curriculum Statement
'Aiming High Together'
All our children are given opportunities to perform, compose and listen to music. Other areas of the curriculum, particularly drama, are complemented by musical activities and the children are introduced to a wide range of styles and traditions. They are encouraged to appreciate music's rich variety and, above all, to enjoy their music-making. Pupils from Year Two upwards are taught music weekly by a Music Specialist. All pupils are given the opportunity to learn to play an additional musical instrument from Year 3 upwards. Pupils are taught by a specialist tutor from the Wigan Music Service.
Music plays a big part in life at Lowton West. We pride ourselves on the fact that every child will get the opportunity to learn how to play an instrument before they leave Lowton West. We celebrate our musical talents through our termly music concerts and also sing weekly in music assemblies and in class.
Each Thursday our Year 4 pupils are involved in the Wider Opportunities Project where they all have the opportunity to learn a musical instrument. This year all the children will learn a range of percussion instruments. In the Autumn term they learnt how to play African drums and performed 3 great compositions within a special celebration assembly.
Every year, Year Five pupils participate in the Let's Sing project, organised by Wigan Music Service. Following regular rehearsals at school, they have the opportunity to perform alongside other local schools.
Music at Key Stage 1
During Key Stage 1 pupils listen carefully and respond physically to a wide range of music. They play musical instruments and sing a variety of songs from memory, adding accompaniments and creating short compositions, with increasing confidence, imagination and control. They explore and enjoy how sounds and silence can create different moods and effects. In Year Two they begin to learn to play the recorder.
Music at Key Stage 2
During Key Stage 2 pupils sing songs and play instruments with increasing confidence, skill, expression and awareness of their own contribution to a group or class performance. They improvise, and develop their own musical compositions, in response to a variety of different stimuli with increasing personal involvement, independence and creativity. They explore their thoughts and feelings through responding physically, intellectually and emotionally to a variety of music from different times and cultures.
In Year Three and Four, pupils continue to learn to play the recorder. In Year Five and Six, all pupils learn to play the ukulele.
Year Group

Autumn

Spring

Summer

Year 1

Singing and Performance: Harvest Assembly, Christmas songs

Music appreciation: listening with concentration

Singing and Performance: Mothers' Day Performance

Composition: Tuned and untuned instruments

Music appreciation: listening to a range of musical instruments/ styles

Composition: experiment, create and select sounds from a range of sources

Year Two

Autumn Term: Space and the Planets

Spring Term: Structure

Summer Term: The Sea

Vocal: Discover the singing voice and be aware of 'pitch matching' when learning new songs.

Instrument: Introduction to the Recorder. Understand the importance of good posture and technique whilst learning how to play three notes; B, A and G.

Listening: The Planets (Gustav Holst), Star Wars (John Williams), Doctor Who (Ron Grainer) and Also Sprach Zarathustra (Strauss)

Composition: 'A journey through space.' Full class composition based on the music within the listening activities using graphic notation.

Vocal: Improve vocal skills as a class and be able to 'pitch match' with more confidence when singing.

Instrument: Understanding the importance of beat and Tempo when playing the Recorder. Playing along to backing tracks using B, A and G, with a steady pulse.

Listening: Examples of 12 bars blues pieces within the Jazz genre.

Composition: 'C Jam blues' class piece using Recorders and Glockenspiels. Exploration of improvisation using simple rhythms.

Vocal: Gain confidence singing in small groups and individually and learn to sing with increasing expression and sense of melody.

Instrument: Introduction to basic rhythms (Ta, Te-te and Tai) in different patterns. Basic introduction of the stave and the notes B, A, G and C.

Listening: La Mer (Debussy), Carnival of the Animals (Saint-Saens), The Hebrides Overture (Mendelssohn), Four Sea Interludes (Britten), Le Onde (Einaudi).

Composition: 'Sounds of the Sea.' Description of various marine images using percussion instruments, the voice and Recorders. Notation will be represented through graphic scores.

Year Three

Autumn Term: Egypt

Spring Term: PSHCE Link

Summer Term: Movement

Vocal: Learn how to sing in an ensemble or solo situation with greater accuracy of pitch.

Instrument: Explore simple notation containing 'Ta' and 'Te-te' notes with a range of three pitches.

Listening: World music with a focus on traditional Egyptian instruments. Explore the different traditions used in comparison to our westernised music.

Composition: Storyboard with descriptive music based on the story of 'Iris and Osiris.' Graphic scores used as notation.

Vocal: Explore how to add further expression to a performance using dynamics and articulation.

Instrument: Explore simple notation containing 'Ta,' 'Te-te' and 'Tai' notes with a range of five pitches.

Listening: Activities focus on songs chosen by the class. Explore the lyrics and the story within the songs.

Explore the structure.

Composition: Song based composition in small groups. Exploration of song structure and how to create lyrics, melody and accompaniment.

Vocal: Perform various songs focussing on secure pitch, sustained note lengths, appropriate expression and control.

Instrument: Using simple notation, explore and compose ostinato patterns that can be used as an accompaniment to the composition.

Listening: Watch 'Stomp' clips to explore the different rhythms and textures that can be used together successfully.

Composition: Create a composition using movement as sounds based on the listening activities.

Year Four

Autumn Term: African Music (WOPS link)

Spring Term: Western Music

Summer Term: Chinese Music (History link)

Vocal: Sing songs from memory with an understanding of how to follow a conductor.

Instrument: Play a range of tunes on the Recorder using standard notation with backing tracks. Focus on awareness of pulse, rhythm and accuracy of pitch.

Listening: African drumming music. Understand and explore the 'Polyrhythms' within the music and the use of 'Call and Response.'

Composition: Djembe composition as a whole class and in smaller groups. Structure inclusive of 'Call and response,' 'Polyrhythms,' and an African chant.

Vocal: Explore rounds and partner songs; understanding why accuracy of pitch is important within a smaller ensemble situation.

Instrument: Explore simple rounds from memory. Group work focus on organising smaller groups, understanding 'entry points' and keeping a secure pulse.

Listening: 'Peter and the Wolf,' (Prokoviev)'Young Persons Guide to the Orchestra'(Britten). Focus on western instruments, identifying genre and how the music can depict the characters.

Composition: Animal and character inspired composition based on their actions and the way they move. Graphic score notation.

Vocal: Perform a range of songs, rounds and canons, from memory, with expression and accuracy of pitch.

Instrument: Perform a range of tunes and rounds from memory, using standard notation. Focus on accuracy of pitch, rhythm, tempo and performance etiquette.

Listening: Chinese and Westernised music containing the five-note Pentatonic scale. Focus on describing the sound of the music and how it is structured.

Composition: Chinese inspired composition using a pentatonic scale on the Glockenspiels. Focus on layers and building texture.

Year Five

Learning a new instrument - ukulele

Ten pieces project (BBC) – recognising ten pieces of music and their different styles

Play and perform in solo and ensemble contexts.

Listen with attention to detail and recall sounds with increasing aural memory. (ongoing theme)

Develop an understanding of the history of music. (ongoing theme)

Music composition: The planets

Learning to play an instrument: recorder and ukulele

Ballad writing – improvise and compose music for different purposes.

Let's Sing – performance

Listen with attention to detail and recall sounds with increasing aural memory. (ongoing theme)

Develop an understanding of the history of music. (ongoing theme)

Music appreciation: South American music study. Emphasis on listening to music from other cultures.

Learning to play an instrument: recorder and ukulele

Musical notation: Use and understand staff and other musical notations.

Listen with attention to detail and recall sounds with increasing aural memory. (ongoing theme)

Develop an understanding of the history of music. (ongoing theme)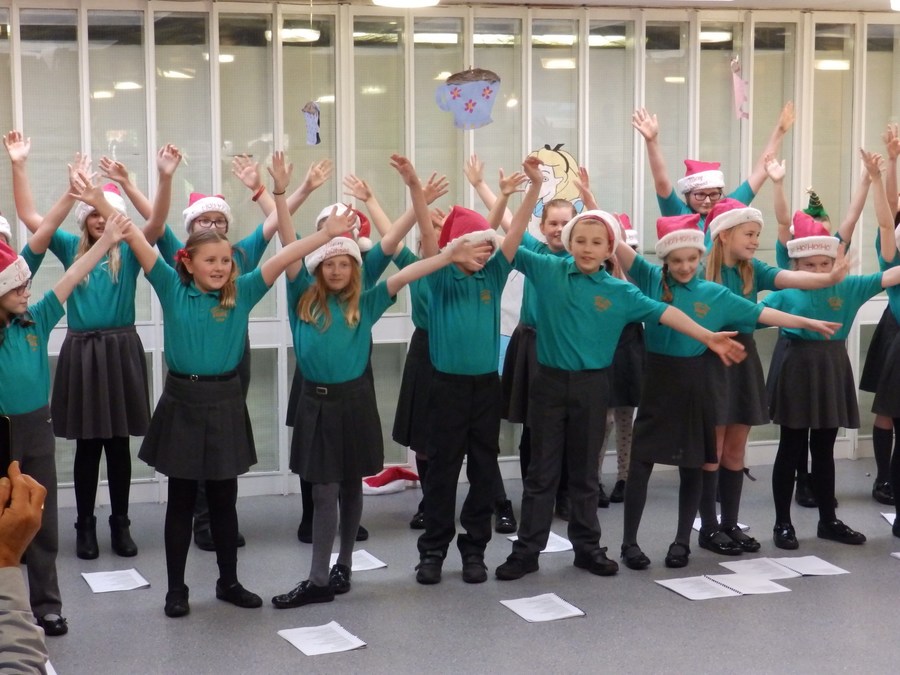 Broadmead Day Care centre
On Thursday, the school choir went to perform at Broadmead Day Care Centre for their carers' coffee morning. The children performed 11 songs to a really engaged audience. They sang their hearts out and were an absolute pleasure to take. They will be performing tonight at the Christmas Fair. Many thanks to Mrs Cooke for preparing the children for this event and to Mrs Cooke , Mrs Mulhall and Mr Cunliffe for taking the children.
School Choir
Our school choir is becoming very popular and indeed, successful. Being part of the choir allows children to come together in a fun, disciplined and energetic way. It allows the children to express their thoughts and feelings through music. From my experience, singing is a great way to boost self-esteem and gain confidence. Sharing the songs together helps children to bond as a group and provides a 'fun and uplifting experience', which creates moments to enjoy immediately and memories that will last forever.
On Thursday, the school choir went to The Broadmead Centre to sing carols to the elderly who use the day centre. The children performed and sang magnificently and they were all a credit to Lowton West. Singing at venues such as this is one way of developing community links and one that helps the children to share their enjoyment of singing.
It was a delight and indeed an honour to be invited to attend this event and it was also a pleasure to see the enjoyment on the elderly faces at being entertained by such an enthusiastic and a well-polished choir.
Congratulations to Mrs. Cooke on all her hard work in getting the children to such a high standard and to Mrs. Mulhall for supporting the children at this event.
Well done to the entire Choir!
Brian Cunliffe
Chair of Governors