Arts Week
All of the children have thoroughly enjoyed our annual 'Arts week'. The Infants have participated in the 'Chime' music project and all of the children made a pot on the potter's wheel! The juniors have enjoyed a range of art activities and musical sessions!
Years 3,4,5,6 – 'Junk Jam' music sessions
The junior children enjoyed 'Junk Jam' music sessions this week which were led by the Schools' Music Service. The pupils were involved using rubbish to create percussion sounds. They tried to replicate the musical 'Stomp'. The children were extremely creative.
Lowton High School Choir
On Tuesday afternoon the whole school enjoyed watching the Glee Club from Lowton High School.
They performed songs such as 'Skyfall', 'A Thousand Years' and 'Roar'.
All the children thoroughly enjoyed the performance and we would like to thank Miss White and the Glee Club for taking the time to perform for us!
Music Alive Years 2-5
To continue Arts weeks we were lucky enough to have the Music Alive Jazz band come and perform for Years 2 to 5 on Wednesday afternoon.
The band were fantastic. They performed jazz, swing and funk music including 'Pink Panther'!
The children have taken an 'expression of interest' letter home to be filled in if they would like to learn an instrument or continue with music tuition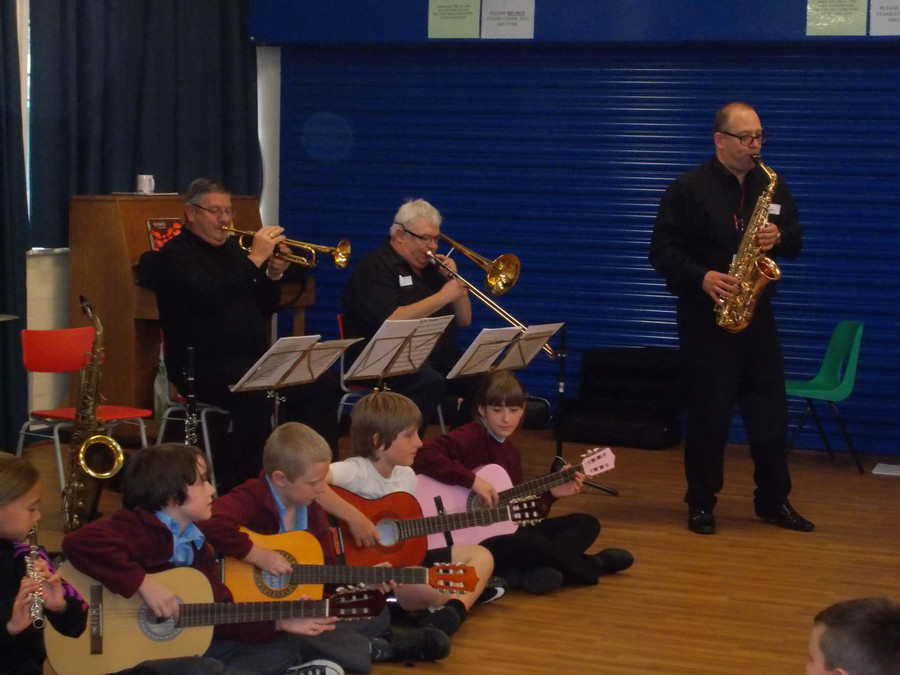 Golborne High School
On Thursday afternoon the whole school enjoyed watching Golborne High School perform a variety of musical performances. We watched performances from instrumentalists, a brass band, a rock band and singers.
The children and staff loved it – particularly the whole school rendition of 'Let it Go!'
We would like to thank Golborne High for a thoroughly entertaining morning!